Discovering a partner's affair is easier than ever before in history. Text messages, emails and online credit card statements leave the careless cheater with an electronic affair trail a gigabyte long. We know the typical telltale signs: weight loss, new music or food interests, the purchase of a new wardrobe. But if your affair radar is up — because your partner's behavior just feels off or out of the ordinary — here are signs you may be overlooking.
They're reluctant to make any big joint purchases.
A big red flag is when your partner has issue for commitments like buying a house or car together . While it's possible that your partner's hesitancy is just due to financial concerns, it can also be a tip-off that they're cheating—especially if this wasn't an issue in the past.
They "forgot" to mention a night out.
People who are cheating tend to engage in sins of omission , they operate on a 'need to know' basis, which is not healthy for a relationship . For example  :  neglecting to mention that time they grabbed drinks with co-workers , it could reflect general dishonesty.
The phone goes everywhere with them—even the bathroom.
Some people are seriously hooked on their phones and tote them along out of habit, or boredom—that doesn't mean they're cheating, The issue arises if this is suddenly a new thing for your partner.
And, they're constantly texting.
Again, a change in behavior is key here. Our minds are wired to look for inconsistencies—it helps protect us from something unexpected happening. If your partner's actions start changing, then it might be a sign of infidelity. It could also be that their friends are having a tough time, or they're wrapped up in work. But if it feels off to you, ask what's going on  the way they respond can be telling.
When you talk, they rock back and forth.
By now, you two should be pretty comfortable chatting. But when your PARTNER is hiding something, look for unusual (and often unconscious) habits, change in body language : Rocking back and forth shows they are nervous around you.
You're getting a lot of gifts.
Cheaters do this to "cover the stench of guilt,"  Take note if your partner also seems to be peppier when they're piling on the presents. People are sometimes in a better mood than usual when they cheat, their cheery countenance, coupled with a need to please and throw a partner off the tracks, can result in a generous change of behavior.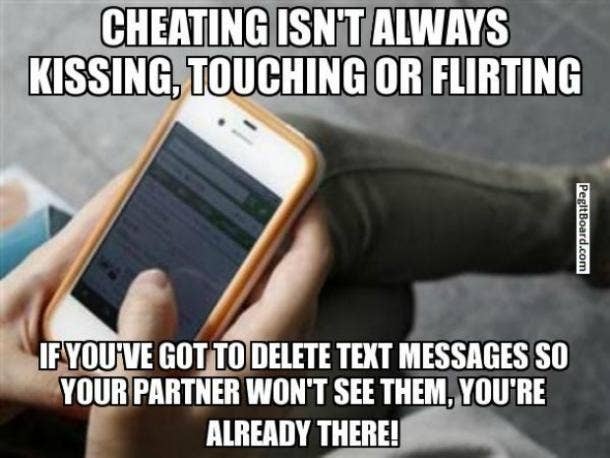 They're more focused on their appearance.
This could mean a hairstyle change, a recent fixation with the gym, or a splurge on new clothing. Sure, this could be part of a New Year's resolution or a desire to please you, but it's important to know that when people cheat, they're more aware of their looks.
They overshare.
You asked how the office party was. They rattled off the entire guest list, all the hors d'oeuvres that were served (and when), and a minute-by-minute play of what went down. That's TMI.
Regularly hearing that their day was "fine" when you used to get into the minutia is enough to raise an eyebrow. With cheaters, the most interesting aspects of their day may relate to their new flirtation this can be more devastating than sexual infidelity as it implies the intimacy of day-to-day life is now being shared with someone new.
This is most notable when they regularly like people's posts that you've never heard of. Don't hesitate to ask who @SexyBae007 is, and how he knows her. If your partner is liking someone else's INSTAGRAM post , consistently , thats a red flag .
The ATM has been getting a lot of action.
Credit cards are easy to trace; cash isn't, If they used to obsessed with racking up rewards points and have now switched to paper, it's worth asking about.
But if these actions feel familiar, and you have no idea why, it's time to ask the tough questions. Hopefully, there's a good reason why they're acting, well, shady. Either way, you have a right to know.